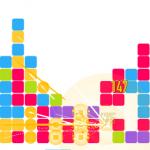 Trim FRVR
Trim FRVR is a fun & challenging matching game at fri com. In this chaotic and totally crazy puzzle game, the action never stops in which you must try and match together a series of colored blocks to avoid the screen filling up. How long can you keep up with all of these rapidly accumulating bricks?
Keep an eye on the height of the blocks! Be sure to avoid letting them fill up to the top, and gaining points in return, otherwise you will become stuck → and the game will be over. Be sure to watch for power-ups as they can give you an advantage and help you clear the blocks faster. Much fun with Trim FRVR at vfriv!
There are also all sorts of special items which you should be looking for. Don't let the items stack up to the top of the screen! Because new rows of items are added all the time, and if they reach the top, you will lose the game, which you surely do not want to happen, right? Can you complete every level and show your match three skills?
Rate the game highly. Share it with your relatives to have fun together in the free time. Play more related games, if you want at http://friv10games.club/ such as More Balls and Make5 Hexa Puzzle
☆☆☆ Features ☆☆☆
☆ Match at least 2 blocks with the same color
☆ Fast-paced gameplay
☆ By trimming blocks in a line or square - Powerups to spawn
☆ Playable on mobile browsers
Controls

Use the left click to trim the blocks.
friv10games.club
Rating:
4
out of
5
based on
2
user ratings