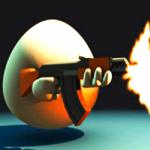 Shell Shockers
Shell Shockers is a unique .io game at friv online Games for kids. Control of an egg, yes you read it right – an egg and wield a variety of weapons in an attempt to kill your online opponents. Players from all over the world will play.
This is an online free for all. Here, everyone is your enemy and there are no friends here! In the game at Friv online game, to step onto crazy battle full of shots and eggsplosions, choose a type of egg → enter a nickname and give your best to blow your enemies' yolk out. To kill all your opponents and be the best egg on the field, you can use a handgun or a sniper rifle or a shotgun or a heavy machine gun. Crack the other eggs open using your advanced weaponry whilst avoiding being cracked yourself.
Be wary of your ammo count too. During game, you must collect supplies from the ground and from defeated enemies, because your weapon only has a limited supply. Try to escape to a quiet corner of the map and allow it to regenerate, if your health runs low. Conquer the leaderboard and crack the highest number of eggs. Much time!
Share, comment and rate this game of our! Enjoy SpaceGolf.io and Splix.io of http://friv10games.club. Have a nice time!
Controls
WASD or IJKL - Move
The left click - Shoot
E or U key - Change weapon
R or Y key - Reload
Press Space - Jump
friv10games.club
Rating:
5
out of
5
based on
1
user ratings