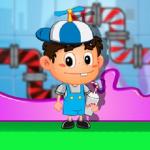 Plumber Soda
Plumber Soda is an intellectual game that allows you to play for free at our website. Do you want to drink soda? You are working in the soda production factory and your mission is to connect the pipelines in order to get the soda flow into the bottle. The task is simple but is is not easy at all because you have to think carefully to make the right way as fast as you can.
You can rotate the pipes of friv Games free by clicking on them to connect the start pipe with the end. When the endpoint of the previous pipe reaches the start point of the following pipe, soda can flow through them. Try to complete the pipeline without running out of the possible moves. Each level limits you in 50 moves so that take the best advantages of them to get the goal. Be aware! Many pipes may not be useful for you, don't let them trick you. Just control the useful pipes in order not to waste your moves. You can get 3 stars for each mission by completing it with the least number of paces.
Pass through all the levels one by one to unlock the next one at friv free online Games. The higher level you are in, the more pipes you can get. That also makes you feel nervous, but I believe that you can conquer them all. Be confident to help the soda flow into the bottles. There are totally 60 ordeals for you to challenge yourself. Try your best to reach the last level?
One of the attractive features is that you can choose your character from the lovely girl or the funny boy.
Share the game with your friends and compete them to see who is the first one to reach the last challenge. Leave your comments to make the contribution to our website. Explore more awesome games such as Plumber and Run Sausage Run at http://www.friv10games.club/.
How to play:
Use your mouse to rotate the pipes.
friv10games.club
Rating:
5
out of
5
based on
1
user ratings