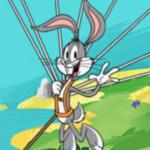 Looney Toons Fearless Flier
Looney Toons Fearless Flier is the collecting game that is worth for you to try on. The game can be played online and requires no registration. Just click the "Play" button to start the journey. It seems that Looney Toons is in a river with the dreamy landscape to take part in the sports competition. His mission is to not only balance in the air but also collect a required number of fruit such as apples or carrots.
You are fastened on the parasol and this parasol is connected to the boat. Someone will drive that boat and drag you up in the sky. Besides, there are many suspended fruits in the air that you have to collect them to solve the challenges of friv school Games for kids. The number of required objects is different in each time. There are more carrots than apples but you should pick as many of them as possible to finish the task faster and then move to the next one. Sometimes, you can see the magnets with the ability to gravitate fruits around without touching. Don't ignore them!
When flying, attempt to avoid the birds in the air. They can detonate your parasol as touching and make you drop in the river. That means you lose the game. Don't worry because you can replay unlimited times.
Look! It is miraculous that many kinds of fishes can fly such as herrings and carps and they are also your enemies so please to avoid them. I bet that this strange thing just happens in friv 10 Games. On the river, many obstacles are waiting for you to defeat like the crocodiles, the frogs, the sharks or the swimming girl. If you let them reach you, the rope breaks off and you sank deeply. Furthermore, a basket full of bombs can kill you immediately.
You can see your score and the best score on the screen. Do your best to live longer to collect enough targets and get the highest score.
If you think this game is impressive, why don't you rate it and share it with your friends to play together? Explore more games such as Chick Landing, Angry Birds Of Rio and Toto In The Frozen Land at http://friv10games.club !
How to play:
Press and hold the spacebar to control Looney Toons.
friv10games.club
Rating:
4.3333333333333
out of
5
based on
3
user ratings