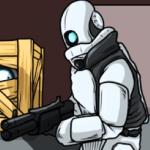 Hunter and Props
Hunter and Props is a 3D multiplayer first-person shooter game that you can play here on friv free online jogos. In the game, you join either the hunter or the props. If you are a prop, you must find a suitable hiding place and then transform into a prop in the room such as a chair or a table. Prepare for the most epic Prop Hunt you have ever participated in.
You must try to stay still and also choose an object that doesn't look out of place. If you are a hunter, it is your job to sniff out the prop players and eliminate them - move around the complex and try to ascertain which objects are real, and which are actually human players hiding! Pay attention to the layout of the rooms and try to memorize the objects present. Will you be a hunter or a prop? Whichever you choose, have fun and conquer the arena!
You also have the opportunity to expand your game world with countless other similar games like Drone Wars at http://friv10games.club/. Those are the best things you can save.
Controls:
Use the Arrow keys / WASD to move
Use the mouse to view / shoot
The Space to jump
E to transform as a prop
Q to sounds
1-5 to weapons
friv10games.club
Rating:
5
out of
5
based on
1
user ratings