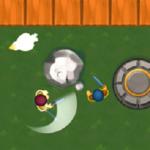 Glor.io
Unlike most of other io games provided a simplified character, with Glor.io at friv Games, you have a real character and a rich-featured map. Your main missions are to defeat other players and stand at the first place in the leaderboard. With a sword in hand, you get started by collecting resources such as food, wood, stone and so on.
With a sword In hand, are you able to rule the Leaderboard in Glor.io at Friv for kids school? Enhance your strength, build walls and construct doors for protection.
You can get a polar bear to move easier on the ice. The more gold you have, the higher your ranking in the leaderboard will be. So, how can you get gold? Simply by building towers to extract gold.
You slash continuously on the rocks in order to get the stones, trap animals to get food and collect woods from trees. Watch out your components, they may rob your fruits of labor. When you collect enough materials, you can use them to build walls, helpful units and other structures which will help you survive, give you protection and level up to become the only king.
Besides, not only other players will attack you, but also wild animals. If your health bar is too low and you don't have the ability to kill them, you can run away. Get more food to recover your health. Play more amazing games such as Splatty.io and Wings.io at http://friv10games.club/. Good luck!
Controls:
Arrows/ WASD - Move
Mouse - Attack/ Craft/ Build
Enter - Chat
friv10games.club
Rating:
5
out of
5
based on
1
user ratings