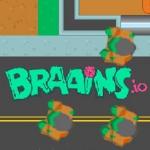 Braains.io
Braains.io is a zombie multiplayer game with 2D physics at ww friv4school games. As you know zombies like to eat human brains. In Braains.io, play as human survivor or as bbloodthirsty zombie. If you play as human survivor, you must hide from zombies and survive. If you play as a zombie, you should chase and tag the human. If you tag the human, he becomes a zombie and goes to your team.Enjoy with your friends!
Brains.io at friv 30 is a team multiplayer online browser game. During the game, you can't kill zombies with weapon, only for defense - Direct your weapon towards zombies and don't let zombies touch you. Enter the world rating and try to get to the TOP. Tips: Some tactics of the game: If you want to win, you must unite in a team, consisting of a large number of people and cooperate.
At first, some humans appear, they have a time to run across the territory, in order to escape or to block from zombies. Then zombies appear, by a single touch and they turn people into other zombies. You can protect yourself with weapons and furniture. Use the bonus money to buy weapons. Sometimes, on the map, you will find weapons left as a bonus. The game is made with a sense of humor and it's quite easy to find a partner. Much fun!
The game is versatile: On different servers there are different maps. At first, it seems strange that there are so many gamers and the servers are always occupied, but when you play a couple of rounds, you will understand that this eternal battle is really exciting.
Have fun with http://friv10games.club/
Check out Brains.io and Zombs.io
Features
✔ Play as a human or zombie
✔ Many moveable objects in the map
✔ Fun and simple gameplay
✔ 2D graphics with top-down view
Controls
Use WASD or Arrows to move the character
friv10games.club
Rating:
5
out of
5
based on
1
user ratings